Solid lubricants embedded in metal matrix
deva.metal® is a self-lubricating bearing material manufactured by advanced powder metallurgy. It is fully compacted, unlike oil-impregnated porous bronze materials that are weak by comparison.

deva.metal® is high performance material with an evenly distributed solid lubricant throughout its metallic matrix.
Suitable for dry running at slow sliding speeds and high loads

Stick-slip free

High resistance to temperature and corrosion

Insensitive to contamination and edge pressures

Can be easily machined, if required 
Material properties 
deva.metal® is a family of high performance, self-lubricating bearing materials. The deva.metal system is based on four main groups – bronze, iron, nickel and stainless steel – each containing dry solid lubricant, most commonly graphite, uniformly dispersed within the metal matrix.

Important selection criteria are the sliding speed, specific load, temperature and other application specific influences.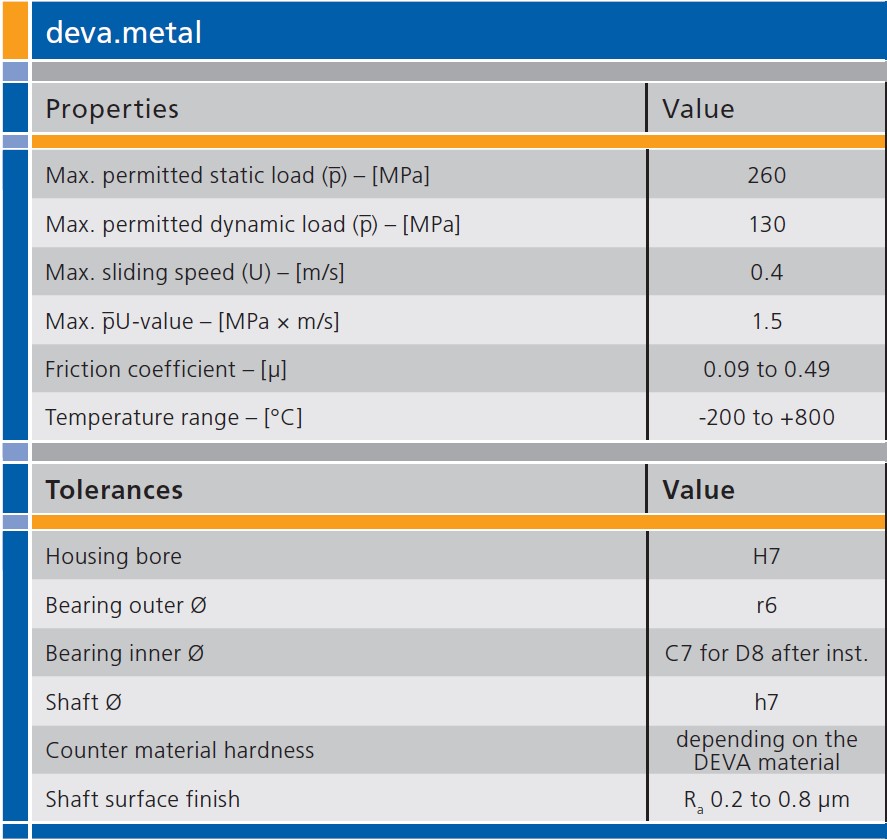 Shapes  
deva.metal® can be easily machined and therefor provided in all kind of shapes, such as flanged bearings, plain bearing, spherical bearing, thrust washers and sliding plates.
Applications  
deva.metal® is utilized many applications such as: 
Iron foundries and steel works, furnace construction, fans, foundry machinery, waste water cleaning plants, water, steam and gas turbines, pumps and compressors, food and beverage industry machinery, packing machinery, construction equipment, mechanical handling equipment and many more. 
More information
Orange Delta Equipment is the official Federal-Mogul DEVA GmbH sales representative for Singapore, Malaysia, Indonesia, Thailand, Philippines & Vietnam. 
Please contact us if you have any questions or specific requirements.