KenzFigee offers a wide variety of tailor-made offshore cranes, such as:
BOOM HOIST CRANES
Boom length from 35m to 120m | Max. capacity 800t
The Boom Hoist crane is equipped with a lattice type boom and uses a winch to perform the luffing action.
Optional the crane can be equipped with a split block offering more versatility of your hoisting needs.
The lightweight design and robustness make these cranes ideal for performing operations that require high load-radius combination.
As the crane can be transported in modules, large and expensive installation vessels have become unnecessary and substantial costs savings on transport- and installation can be made.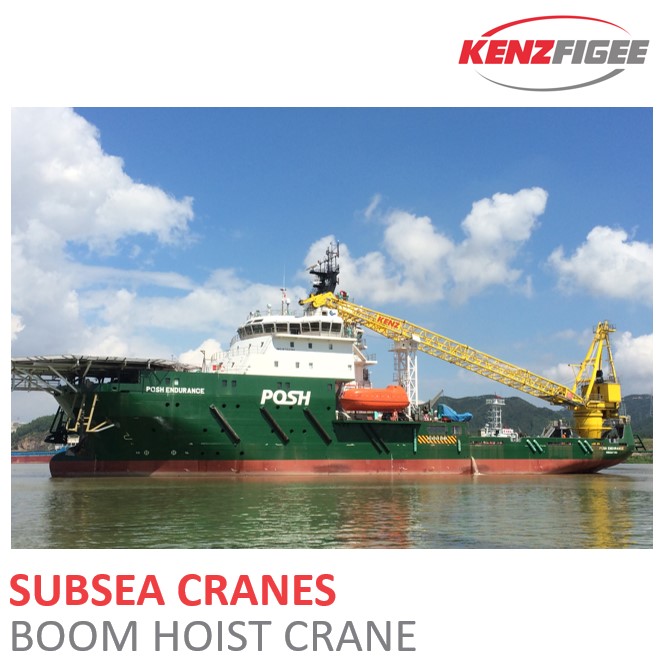 RAM LUFFING CRANES
Boom length from 20m to 50m | Max. capacity 300t
The design has proven itself over the years with an installed base of more than 50 cranes. This crane is optimized for small to medium day-to-day lifts at moderate radius. Specifically, suitable for smaller (unmanned) platforms, production platforms, FPSO's, and other ships.
The Ram Luffing offshore crane has a box type boom, employs hydraulic power for its main functions; hoisting, slewing and luffing.
The limited number of moving parts make these cranes highly reliable and require limited maintenance.
KNUCKLE BOOM CRANES
Boom length from 18m to 45m | Max. capacity 300t
Based on proven design, the KenzFigee Knuckle Boom crane is easy to customize in order to fit clients' requirements.
This design has the main hoist rope running underneath the knuckle jib. With its 'easy to re-reeve' main boom lift, the hoist rope can be placed over the main boom to handle taller and heavier loads.
In addition to this, the main hoist winch can be placed below the deck (also at a later stage), which facilitates deeper operations and better vessel stability. Because of its compact design the deck space utilization is less.
ROPE ACTUATED KNUCKLE BOOM CRANES
This Rope Actuated Knuckle Boom crane is a completely new type crane design and unique in its kind. The crane combines the benefits of a light construction of a rope suspended crane design with the superior load control characteristics of a Knuckle Boom crane by minimizing pendulum swing.
All crane motions are actuated by winch and rope. This way the internal forces of the crane are balanced, and the boom and knuckle structures are subjected to much lower bending moments as compared to the cylinder actuated Knuckle Boom cranes. As a result, KenzFigee's design experts were able to keep the crane structure relatively light as compared to conventional Knuckle Boom cranes. The Rope Actuated Knuckle Boom crane features impressive capacity-over-weight ratios, comparable to those of Rope Luffing boom hoist cranes.
SOME BENEFITS
Minimum of the deck space is blocked by the crane in stowed condition
High lifting capacity of max 2,000t
Work-ability; long knuckle
Knuckle jip can be completely folded between the main booms
Heavy objects can be lifted over the main boom
Tall objects can be lifted over the knuckle jib
Maximum radius over the main boom 45m over the knuckle 62m
Working over the knuckle jib results in safe operations due to limited pendulum swing
Easy to switch between crane operations over the main boom or knuckle jib
Relatively light in weight compared to conventional Knuckle Boom cranes